500W RGB Flood Light Outdoor with Remote Control,Can meet a variety of lighting needs: amusement lighting, stage atmosphere, scenic spots lighting, architectural lighting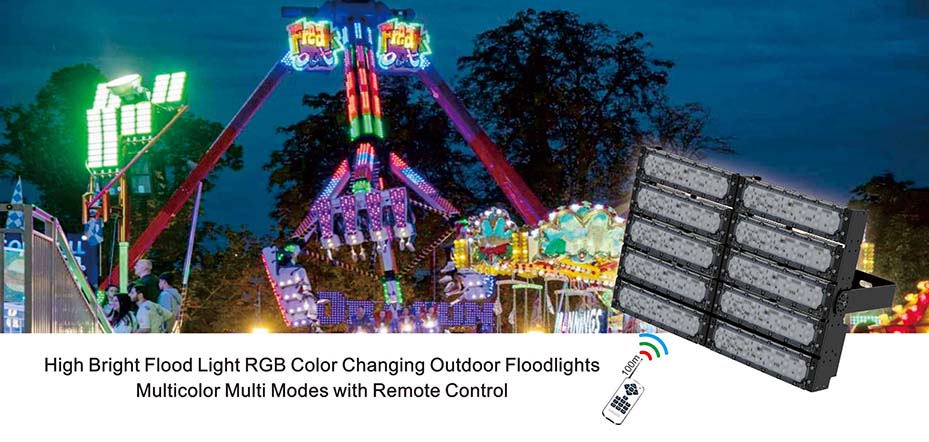 Product Parameters

Model No:
AT447F-M500RGB
Power:
500W
LED type:

210pcs 3W RGB

Input Voltage:
AC100-277V
Emitting Color:
RGB

Working Temperature:

﹣20℃-50℃
Accessories:
waterproof cable / u-shape bracket / remote control / screws
CRI:
75
Beam Angle:
60°
Weight:
12KG

Defend grade:
IP65
Warranty :
2Years
Product Introduction:
Aglare Lighting is a professional rgb led flood light supplier and manufacturer in china, specializing in high quality customized products. We warmly welcome you to buy or wholesale bulk color changing LED flood light 500W 300W 200W 150W 100W 50W from our factory. Wholesale RGB Flood Lights.
Advantages of our 500 watt rgb led flood light:
1. High quality LED chip
We use the best RGB LED chips , these chips are with high brightness, low heat and good color. Our product can provide a wide range of brightness and color temperatures for your needs. Meanwhile, we have a two-year warranty.
2.Our 500W RGB LED flood light feature MCPET reflective film, which increases bulb efficiency by more than 25%.
3.Excellent colors
Our 500 watt rgb led flood light is intelligent and capable of producing a variety of color-changing effects. You can select color and control brightness as desired with the remote Control.
4 modes:
Flash and Strobe Modes: Both modes provide you flashing lights, among which the Flash mode change colors every 1 second and the Strobe mode change colors every 3 seconds, offering you fantastic lights with different atmosphere.
Fade and Smooth Modes: both of them provide you color gradient lights, the difference is that the color changes faster under fade mode than that of the smooth mode.
Lighting colors of each mode are changing at random.If working with a DMX controller, it can generate more complicated effects.
If you only want some fixed colors (such as red, pink,green,orange ,bule lamp; white) and changing effects (such as jumping, fading, flashing, strobing, smoothing), you can use our RF remote control solution.
4.Remote Controller (Battery included)
With the provided remote controller, you can easily change colors, brightness or modes with a press of the button.
Please note that the luminous color and change method can be selected through wireless remote control, and all lights will change consistently within the signal receiving range. The remote control distance is greater than 200m.
If you buy several Aglare Led RGB Flood Light in different wattage, you are allowed to control them with one remote.
5.Excellent Heat Dissipation
With High Strength aluminum case, this RGB Flood Light has an excellent heat dissipation performance, which effectively prolongs its lifespan.
Our colored led flood lights use MCPET reflective film; improve lamp efficiency by more than 25%;
Wide Beam Angle
60/90° beam angle, providing you with wide illumination range.
Product Description:

Color changing led flood light decorate your yard building in festival/Christmas. Suitable for different applications such as sign illumination, for up-lighting, to accent trees, signs/billboards, building interiors/exteriors, and large objects such as building murals, statues, aquarium reef coral tanks.
Use this High-Intensity And Long-Lasting 500W RGB Led Flood Light as outdoor spot lighting for LED city color stage lights, carnival lighting, fairground lighting, etc.