500W Led Tunnel Flood Lights IP65 Waterproof Outdoor 500W Football Cricket Basketball Stadium Floodlights Adjustable Windproof Bracket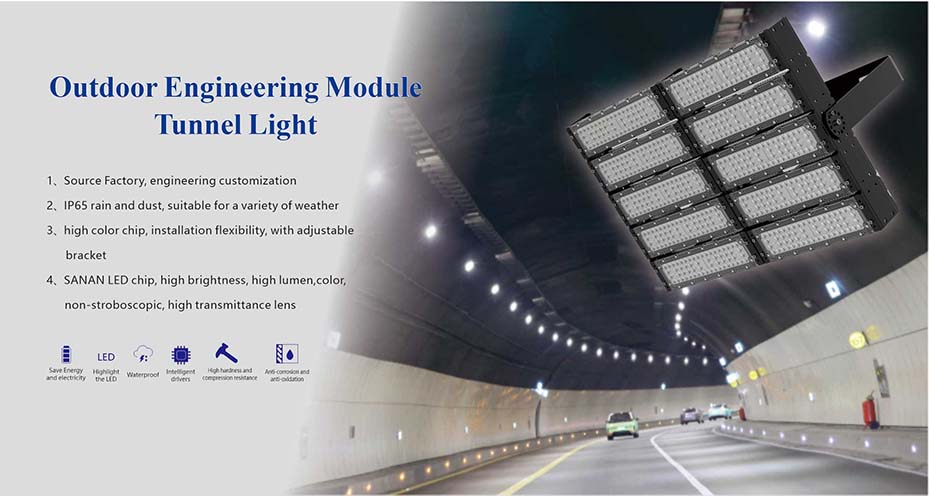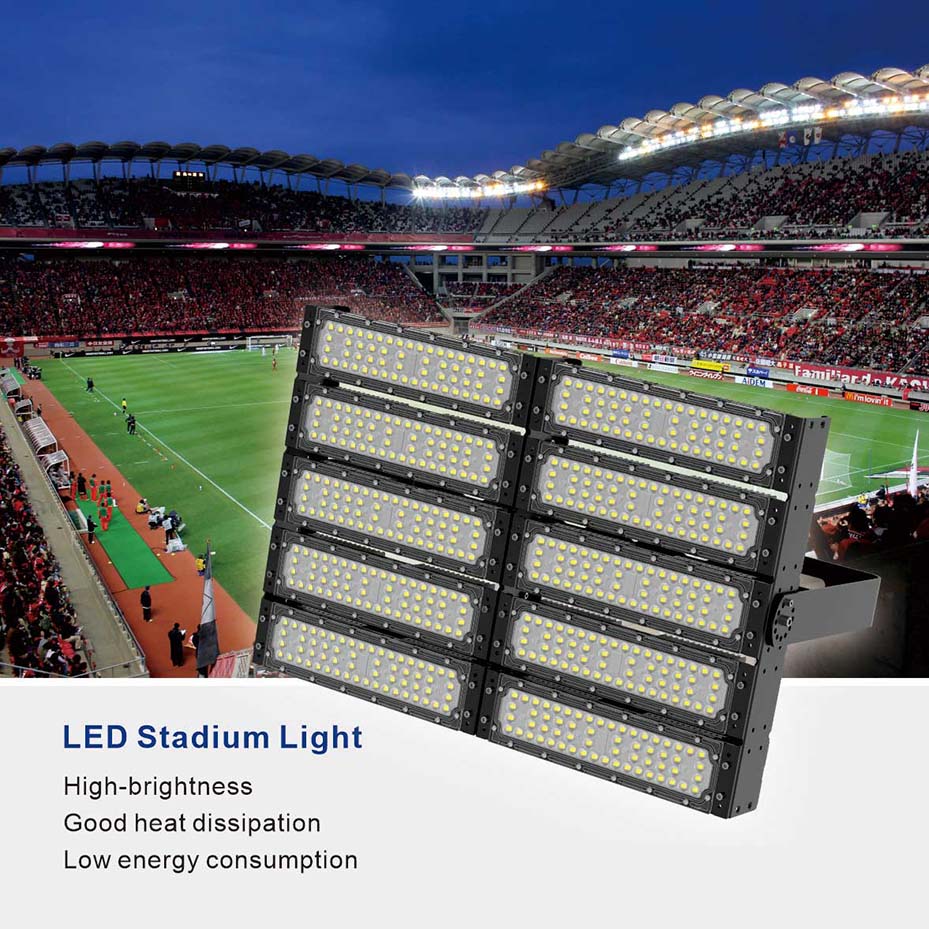 Product Parameters

Model No:
AT447-M500W60-60
Power:
500W
LED type:

600pcs 3030LED

Input Voltage:
AC100-277V
operating frequency:
50/60HZ

power-supply efficiency:

93%
power factor:
>0.9
CRI:
70/80
Luminous Efficiency:

130lm/W-160lm/W

LED light source life:

50000H

operating ambient temperature:

-40℃~50℃,20%~90% H.R

storage temperature:

-45℃~55℃,10%~90% H.R

operating ambient temperature:

-40℃~50℃,20%~90% H.R

Luminaire material:
aluminium +Q235

Beam Angle:

60°

Weight:

15.2KG

Defend grade:

IP65

Warranty :
2Years
Product Description:
Our LED flood lights are made of durable materials and waterproof construction, which guarantee reliable and long-lasting performance even in harsh weather conditions. No matter it is cold winter or hot summer, our products can work normally and provide you with stable light effects.
500W module LED floodlight outdoor energy saving lamp.
We especially recommend our 500W Modular LED Flood Light, which uses advanced LED module technology to provide high-efficiency lighting effects. This product is suitable for tunnels, football fields, tennis courts, baseball fields, basketball courts and landscape lighting. At the same time, it has an IP65 waterproof rating to ensure stable operation in any weather conditions.
We also provide RGB LED floodlight controllers, allowing you to easily change colors and create dynamic lighting effects.
The lighting angle is adjustable to meet various needs.
Our 500W outdoor module LED flood light also has the function of adjustable lighting angle, with a variety of optional lighting schemes and adjustable angles, which can be widely used in various environments. It enables you to flexibly adjust the lighting direction to meet different outdoor lighting needs.
Application:
The 500W LED Tunnel Flood Lights Outdoor 500W Stadium Lighting is perfect for a wide range of applications. It is specifically designed for tunnel and underpass areas, delivering optimal visibility and ensuring the safety of motorists and pedestrians. Additionally, it is an excellent choice for stadium court lighting, providing ample illumination for sports events and enhancing the overall experience for both players and spectators.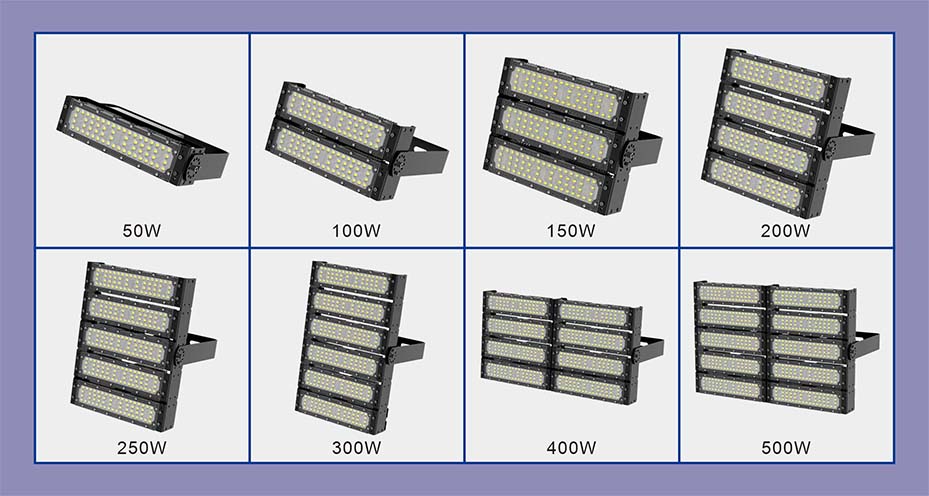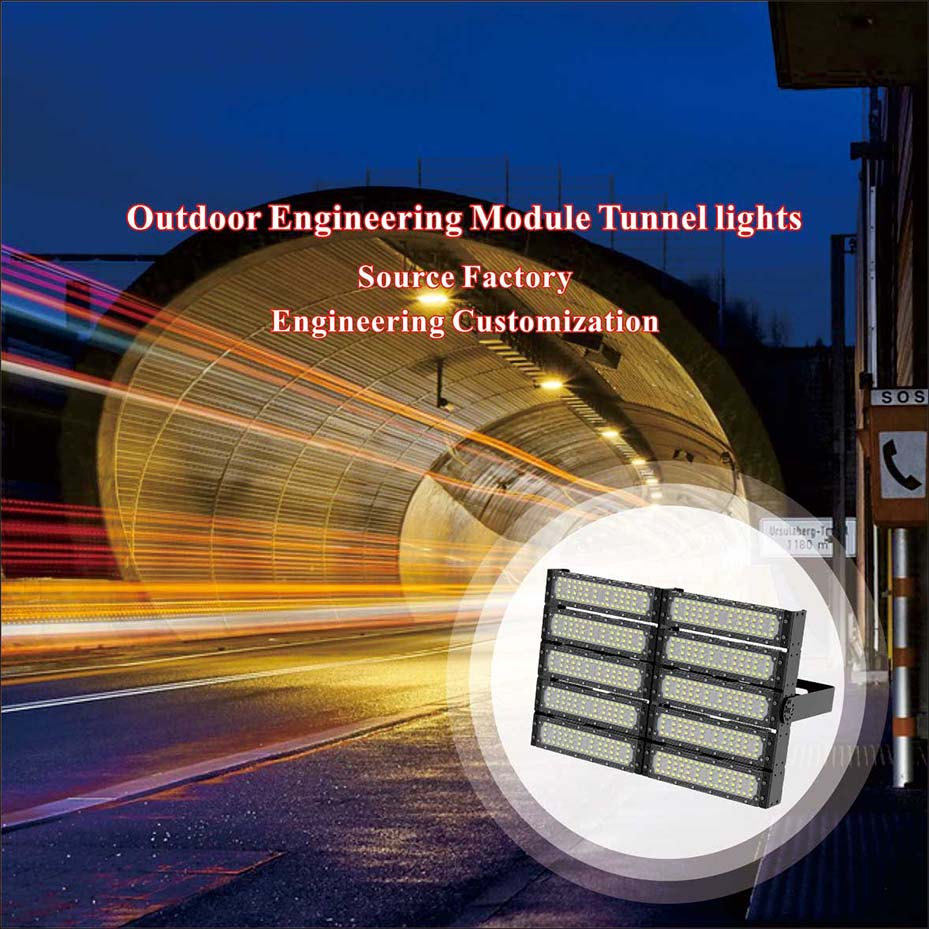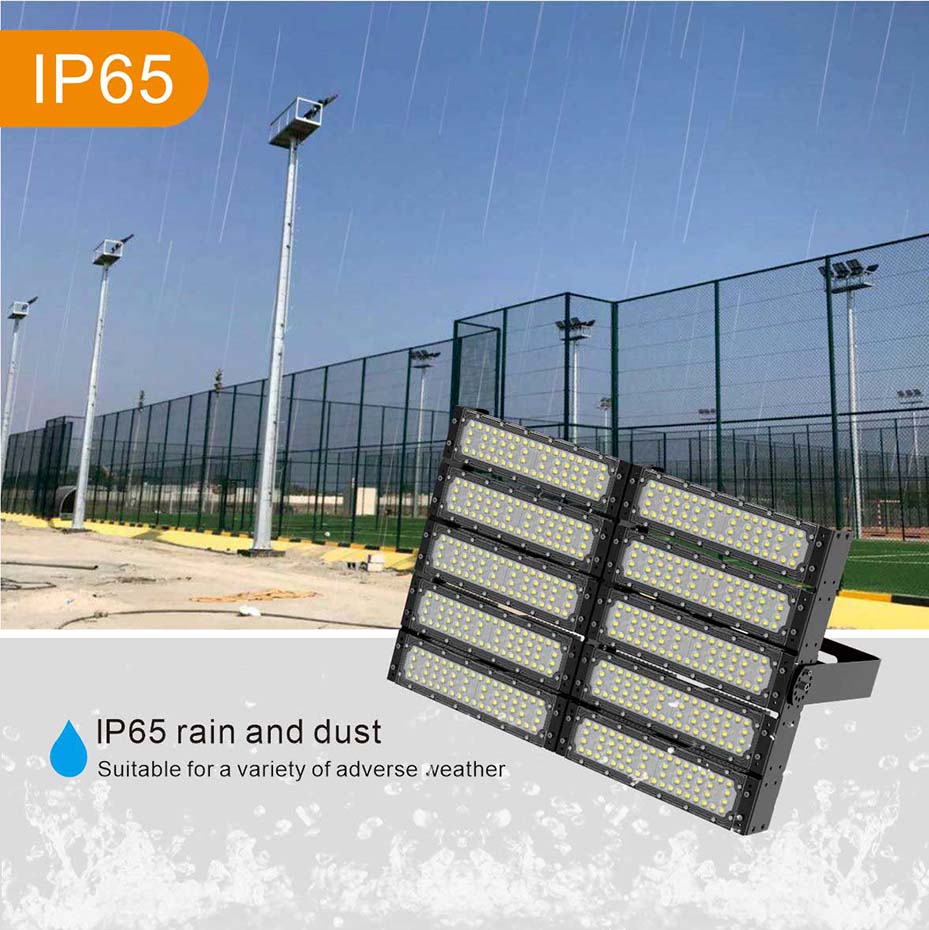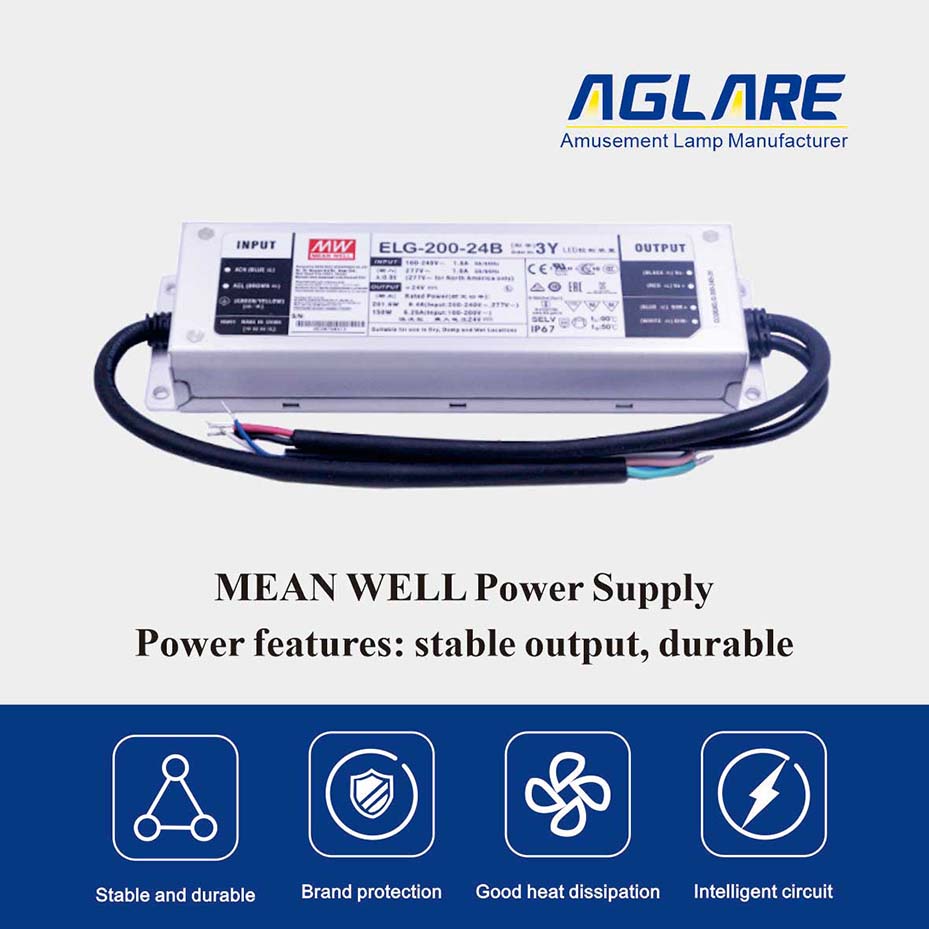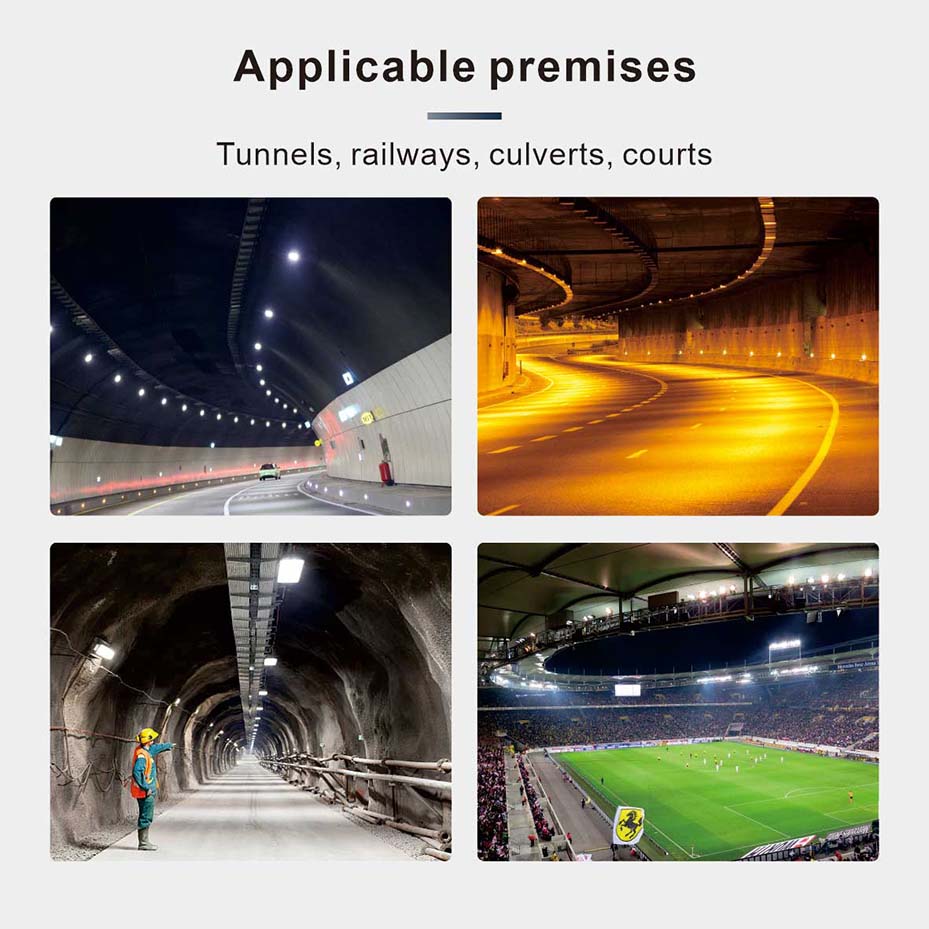 Product characteristics:
■ LED light source adopts polycrystalline package, high efficiency,
stable performance, low light decay, no dead lamp.
■ Environmental protection and no pollution: all lamps and lanterns are free from lead,
mercury and other harmful substances affecting the environment;
No UV, infrared radiation harmful to human health; No light pollution to the surrounding environment.
■ High light efficiency: Using high light efficiency LED beads and high light transmittance optical lens,
low system loss, high light efficiency.
■ Precise light distribution: The use of ultra-high level free-form surface or scale reflection design,
further improve brightness and illumination uniformity and geometric utilization.
■ Super heat dissipation performance: high heat conduction fin heat dissipation and meet the fluid
dynamics of heat dissipation technology, reduce the temperature rise, effectively extend the life of the lamp.
■ High efficiency and stability: constant current input, no start delay, not affected by power grid fluctuations, no stabs.
■ High safety: module input voltage is safe and low voltage, safe and reliable.
■ The light distribution scheme is rich and optional, the Angle adjustment is flexible, and the application is wide.
■ Light weight: Using fin high heat conduction radiator, light weight, easy installation and maintenance, safe and reliable.
■ Long service life: the service life is the same type of traditional lamps and lanterns 5-8 times,
greatly saving maintenance costs.
■ RoHS compliant green products.
Frequently Asked Questions
Q: Can these flood lights be used outdoors? A: Absolutely! The 500W LED Tunnel Flood Lights Outdoor 500W Stadium Lighting is specifically designed for outdoor applications. With its IP65 rating, it is built to withstand various weather conditions, ensuring reliable performance in any outdoor environment.
Q: Are these flood lights energy-efficient? A: Yes, they are! Our LED flood lights are designed to be energy-saving, providing bright illumination while consuming less power. This makes them an eco-friendly and cost-effective lighting solution.
Q: How long is the lifespan of these flood lights? A: The 500W LED Tunnel Flood Lights Outdoor 500W Stadium Lighting has a lifespan of 50,000 hours. With proper usage and maintenance, you can enjoy many years of reliable and efficient lighting.
Q: Are these flood lights easy to install? A: Absolutely! These flood lights come with all the necessary hardware and a user manual to guide you through the installation process. Whether you are a professional or a DIY enthusiast, you will find the installation hassle-free and straightforward.
Upgrade your lighting solution with the 500W LED Tunnel Flood Lights Outdoor 500W Stadium Lighting. With its high-quality construction, weatherproof design, energy-saving capabilities, and easy installation, it is a reliable and efficient choice for tunnel and underpass areas as well as stadium court lighting. Don't compromise on quality and choose a lighting solution that delivers exceptional performance and durability.
With Aglare Lighting as your LED flood light supplier, you can get high quality, durable and reliable high power LED flood light lighting. We are committed to providing products that meet your various lighting needs, whether it is the lighting needs of outdoor tunnels, football fields, tennis courts, baseball fields, basketball courts and landscape lighting, we can provide you with the best solutions. Contact us, let us create a bright and comfortable lighting environment together.