480LEDs/m 8mm DC24V Yellow COB Flexible LED Strip Light
Product Parameters

Model No

:

ALS-COB480W30
Power

:

9W/M
PCB width

:

8mm
Input Voltage

:

DC 24V
Size(MM)

:

L680*W280h290
Cutting Length

:

every 50mm
LED Quantity

:

480LEDs/m
Color Temperature

:

Yellow
Qty/Roll(m)

:

5
Color Rendering Index

:

Ra>90

Waterproof Level

:

IP67 Waterproof
Storage Temperature

:

-40℃-+80℃
Operation Temperature

:

-25℃-+45℃


COB Flexible LED Strip Light Product Features:
1.COB LED strip with 480 LEDs/meter provides incredibly bright and high-density lighting.
2.Unlike other LED light strips, the COB strip offers soft and uniform lighting with no dark spots.
3.The COB strip is safe to use at low voltage (DC 24V) and comes with easy-to-install strong adhesive tape.
4.Enjoy the flexibility of the COB strip as it can be bent, folded, and cut every 1.97 inches (50mm) to fit your needs.
5.Benefit from the energy efficiency and long lifespan of the COB LED strip, lasting over 50000 hours and dimmable.
6.Wide application possibilities for both indoor and outdoor use, perfect for decoration, events, and more.
7.Please note that the LED strip requires an AC/DC transformer (power supply) and doesn't connect to AC 110V directly.
8.Illuminate your house, restaurant, supermarket, boat, camping site, or any other space with the COB LED strip.
9.Bring vibrant lighting to your garden, kitchen, bedroom, ceiling, stairs, or even your car.
10.Create stunning effects with the COB LED strip for special occasions like Christmas, parties, weddings, and more.
Product Picture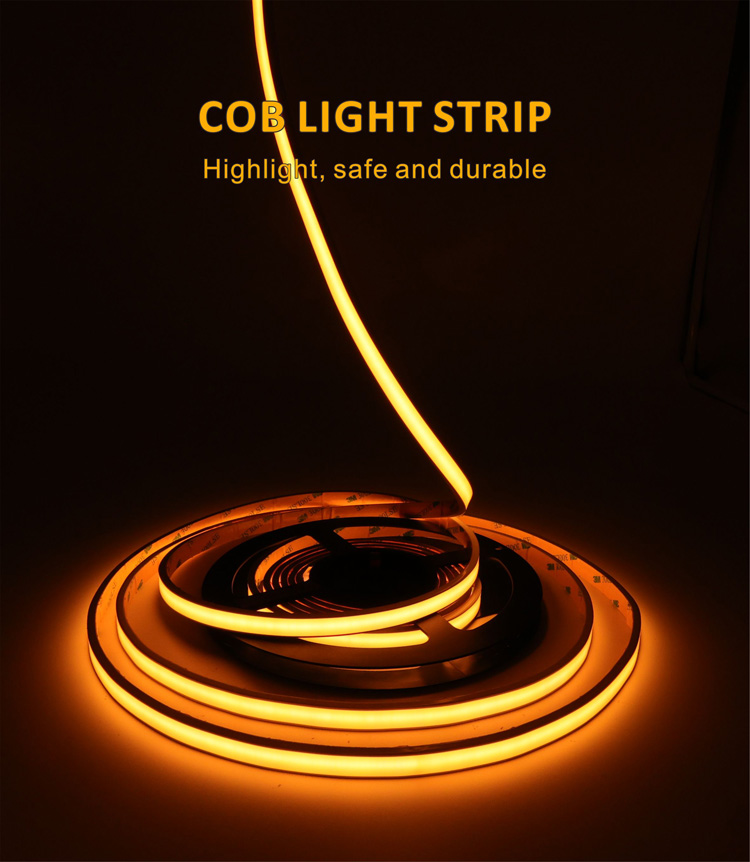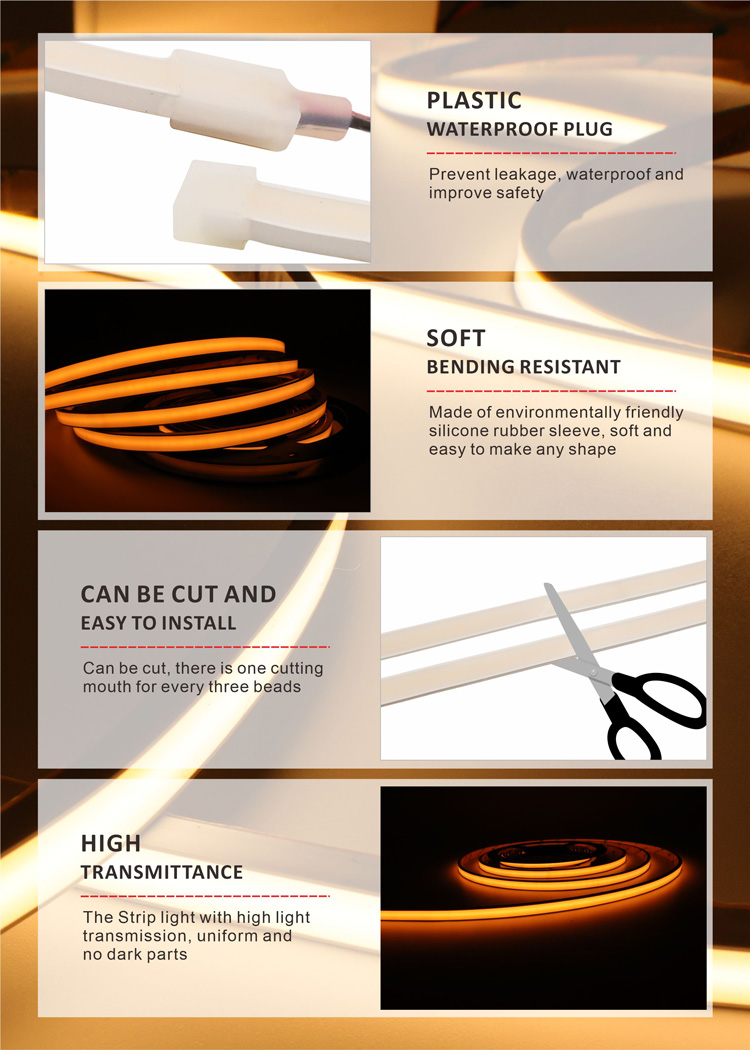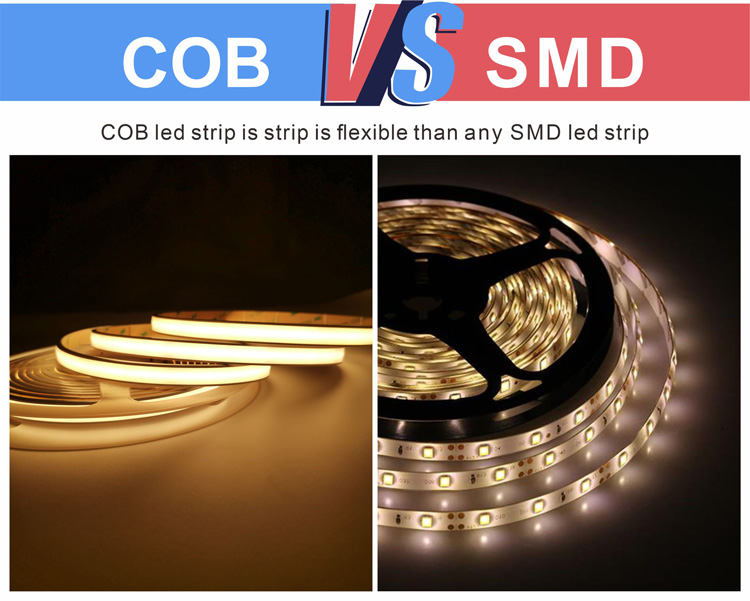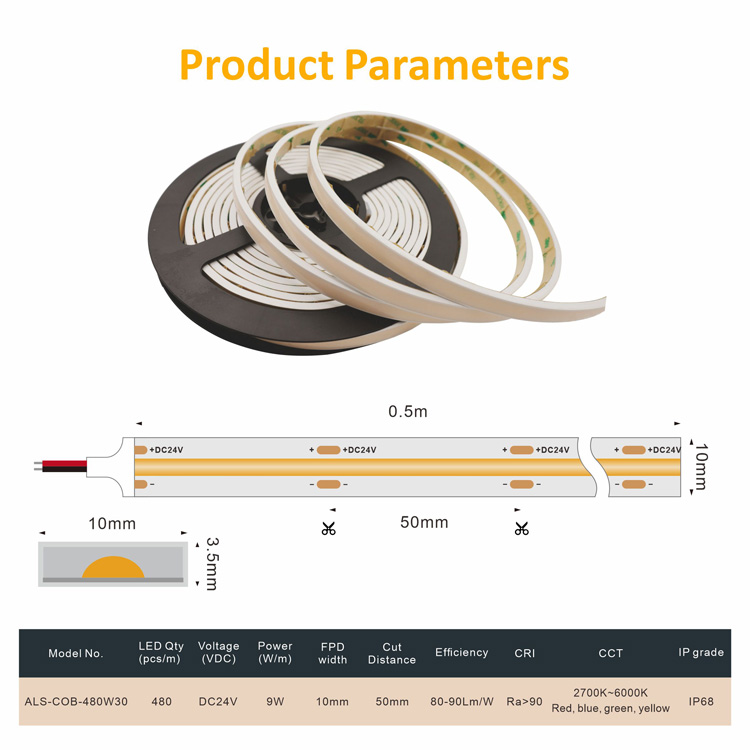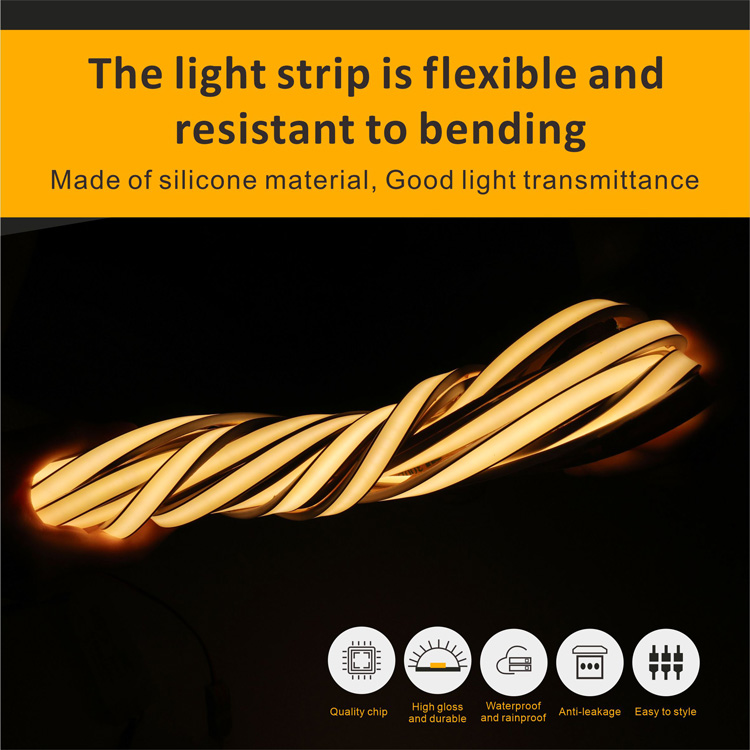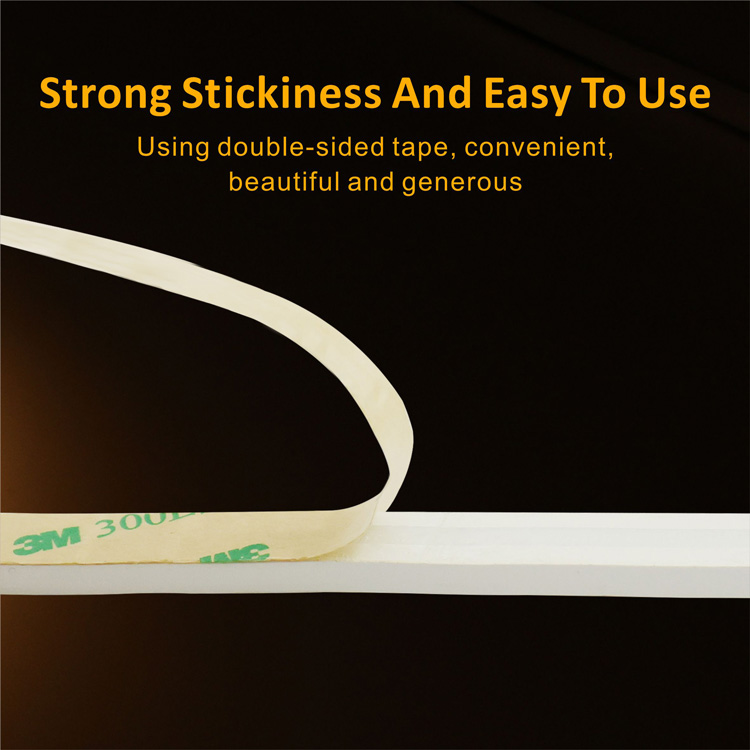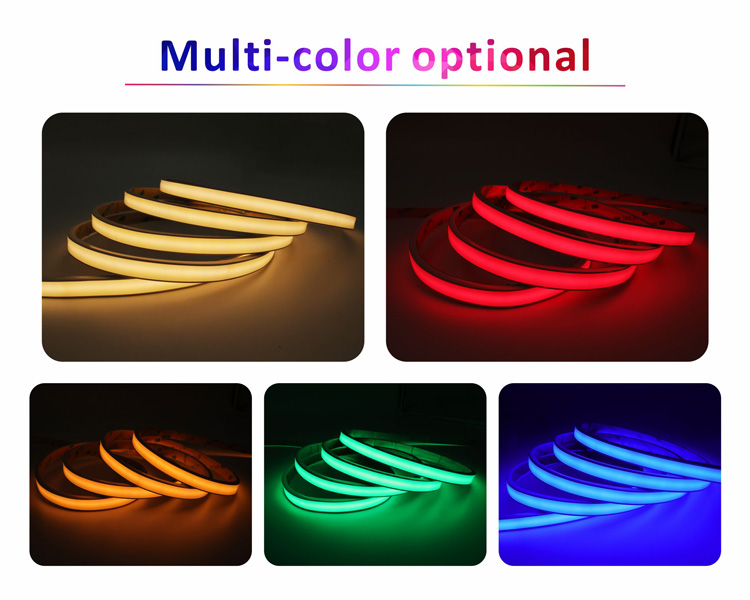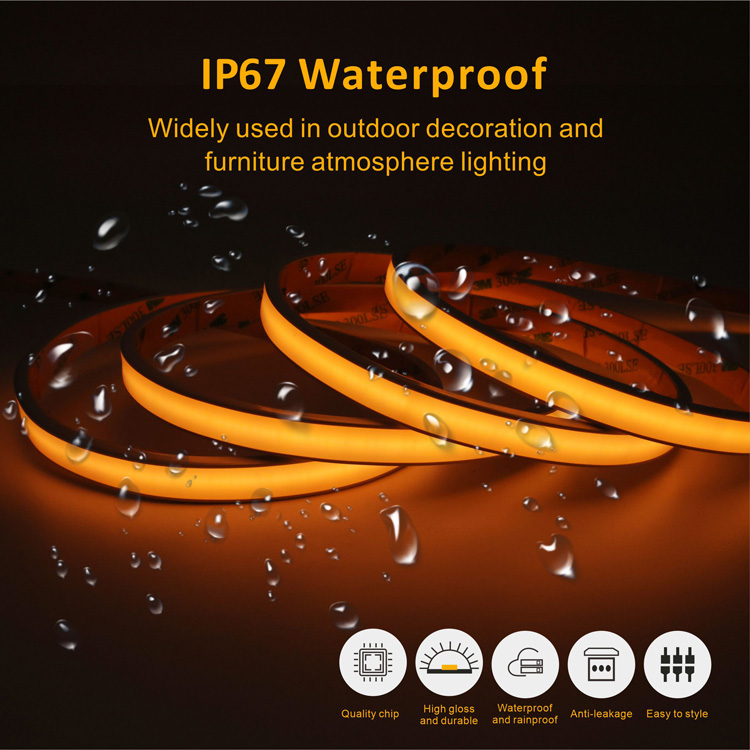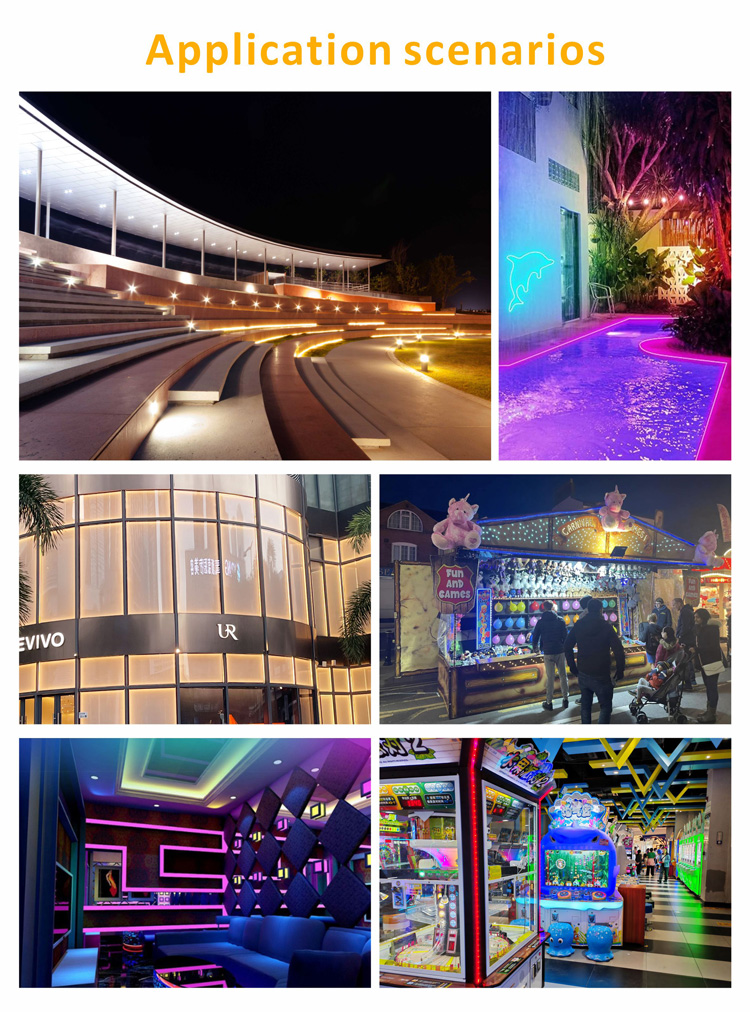 Product Description:
Check out the Silicone Tube Waterproof COB Outdoor LED Strips, designed to bring illumination to your outdoor spaces with style and efficiency. These LED strips feature high-quality LEDs as the light source, offering a remarkable 480LEDs per meter and 5 meters per reel. Get ready for a lighting solution that has no light spot, low light decay, high CRI, and low power consumption.
How It Works
The Yellow COB Flexible LED Strip Light operates on a DC12V power source. Simply connect the strip light to the appropriate power supply, such as a Waterproof LED Driver, and watch as it illuminates your space with a vibrant yellow hue. The soft silicone tube cover enhances its waterproof capabilities, ensuring it can withstand outdoor conditions. Thanks to its flexible design, you can easily bend and shape the strip light according to your project needs. Whether you want to install it in wet locations or use it for linear lighting projects, this strip light promises excellent efficiency and color consistency, providing a bright and comfortable visual experience.
FAQ
Q: Can I use these LED strips for outdoor applications? A: Yes, absolutely! The Yellow COB Flexible LED Strip Light is designed for outdoor use. Its soft silicone tube cover increases the IP rating to IP67, making it highly resistant to water and dust.
Q: Do I need any additional accessories for installation? A: Yes, for outdoor use, you will need to connect the LED strip light to a Waterproof LED Driver. Additionally, if you wish to adjust the brightness, you can connect it to an LED Dimmer.
Q: What is the power source required for these LED strips? A: The Yellow COB Flexible LED Strip Light operates on a DC12V power source.
Create a stunning and well-lit outdoor space with the Yellow COB Flexible LED Strip Light. With its remarkable features, durability, and versatility, this strip light is the perfect choice for your lighting projects. Order now and bring vibrant illumination to your outdoor areas!