150W RGB Flood Light Outdoor with Remote Control,Can meet a variety of lighting needs: amusement lighting, stage atmosphere, scenic spots lighting, architectural lighting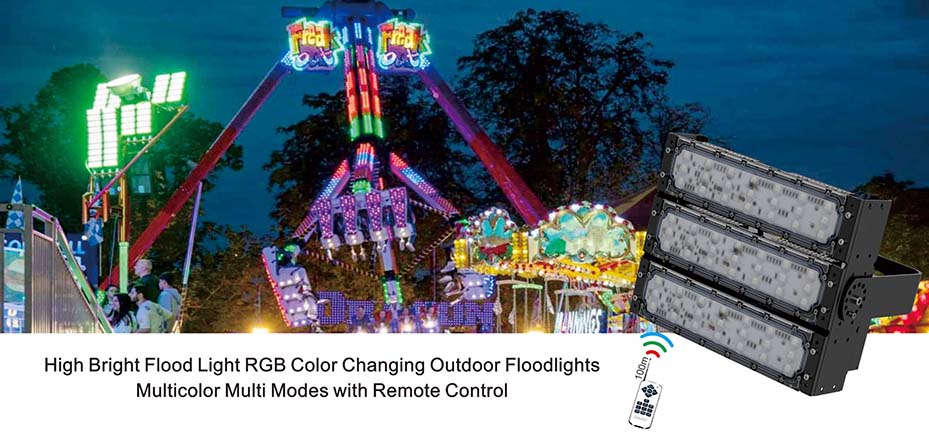 Product Parameters

Model No:
AT442F-M150RGB
Power:
150W
LED type:

63pcs 3W RGB

Input Voltage:
AC100-277V
Emitting Color:
RGB

Working Temperature:

﹣20℃-50℃
Accessories:
waterproof cable / u-shape bracket / remote control / screws
CRI:
75
Beam Angle:
60°
Weight:
4.2KG

Defend grade:
IP65
Warranty :
2Years
Product Description:
Aglare LED150W RGB Flood Light Colour Change Flood Light Outdoor , Energy-saving and robust, separate detachable module design, simple replacement, low after-sales cost. The brightness and color temperature of our products can be adjusted to a wide range to suit your needs.There are numerous ways to make color-changing effects. (Single color fixed, single color flash, RGB gradual change, RGB flash change), If working with a DMX controller, it can generate more complicated effects.adjustable effects, appropriate for any playground.
The 150W RGB LED Flood Light is dimmable with remote control.Features a wide beam and high intensity light. High color film, luminous flux: 2740±5%, color temperature: rgb, beam angle: 60/90°; they provide a sense of security.
Aglare 150W RGB LED Floodlight Colour Changing is self-designed and self-developed, including the DMX512 decoder. When our light has problem, we can position it and fix it quickly. We provide excellent maintenance service.
Our remote flood light:The luminous color and change mode can be selected by wireless remote control, and all lights keep consistent changes within the signal receiving range. The remote control distance is greater than 200m.
Enjoy the joy that comes from ample lighting in outdoor spaces when you install this 150 watt outdoor colour changing floodlight fixture. Because of the design of this colored led flood lights installation, Flexible installation, with adjustable bracket,Independent detachable module design, easy to replace.
A housing made of aluminum provides high heat sinking as well as sturdiness to ensure that you can count on this fixture to meet your everyday lighting requirements outdoors. This fixture has an IP65 rating which means you are guaranteed electrical safety in humid outdoors. suitable for a variety of weather,can meet a variety of lighting needs: amusement lighting, decorating party, garden,led city color stage lighting, scenic spots lighting, architectural lighting.
Buy 150W RGB LED Flood Ligh China Direct From Rgb Led Flood Light Factories at Aglare Lighting.Wholesale color changing led flood lighting.Contact us for pricelist and quotation.
Product Description:
Aglare colored led flood lights is built to last, with durable materials and a waterproof design that ensures reliable performance even in challenging weather conditions. Ideal for outdoor lighting use.
Use this bright 150 watt RGB flood light for outdoor spot lighting for fairground lighting,carnival lights and LED city color stage lights, etc.